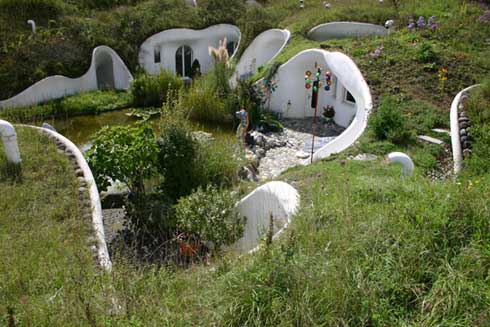 Underground housing is a concept whose time has come again. Its advantages over above-ground housing are spectacular. It stays warm in the winter and cool in the summer. It can double the yard space in a city. It is cost effective due to half building materials. It is the safest form of housing due to its resistance against fire and radiation and is impervious to tornado and hurricane strength winds. It even does better in earthquakes.
There are many advantages to earth integrated architecture. With the earth as insulation, heating and cooling energy requirements are significantly reduced, especially in windy areas. Underground homes offer protection from storms, never have to painted, shingled or have the eaves troughs cleaned out.  Here are some unique and crazy underground house designs.
Underground House at Swiss village of Vals:
This unusual house plan is the collaboration between the Netherlands architects at SeARCH and Christian Muller Architects.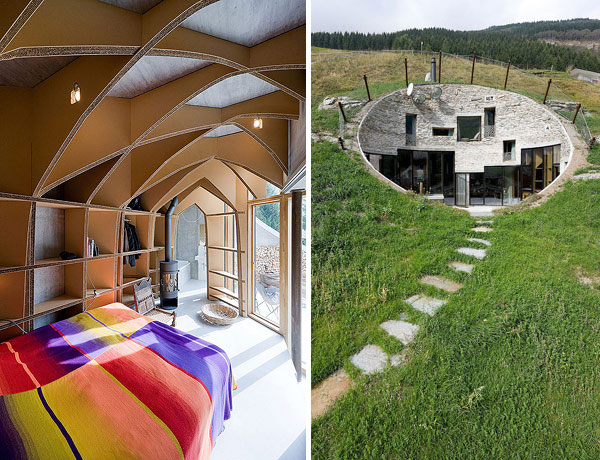 British football star Gary Neville's house:
The one-story, nearly 8,000 sq ft structure was designed to keep energy consumption to a minimum.


Swiss Estate :
Designed by Vetsch Architektur, the structure was built using earth house construction, resulting in an insulating blanket that protects it from rain, low temperatures, wind and natural abrasion.


Aloni House Cycladic Islands in Greece:
Beautiful underground house that was built on the Cycladic Islands in Greece. Nice place to live if there is an Internet access.


Malator House:
It is located in Pembrokeshire, England. It's carved out of a hillside and shaped like a tunnel, but its glass-fronted design allows it to be bathed in masses of light.


Klima Hotel (Bella Vista):
Designed by architect and designer Matteo Thun, located in Bozen, Italy. It is first certified eco-friendly hotel.